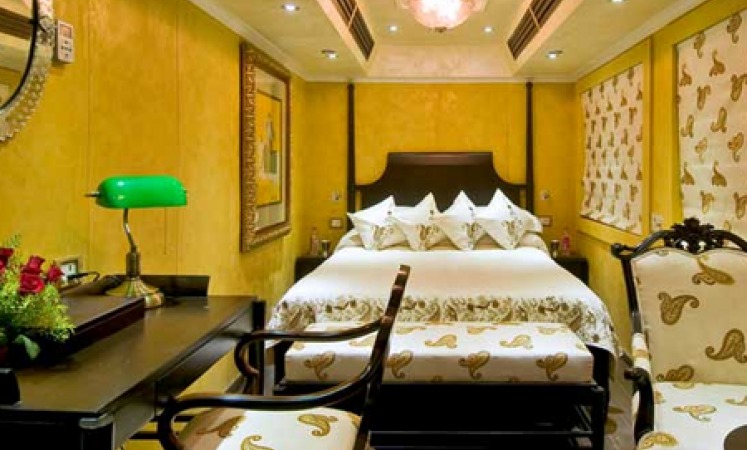 Palace on Wheels- The Luxury Train 
---
A joint collaboration of Indian Railways and the Rajasthan Tourism Development Corporation, the Palace on Wheels train made its maiden luxury tour back in 1982. It was voted as the 4th luxurious train of the world in 2010.
​It offers 7 nights/8 days of a royal journey covering amazing tourist destinations of North India – Jaipur (the Pink city), Jaisalmer, Jodhpur, Ranthambore National Park, Chittorgarh, Udaipur (the city of Lakes), Bharatpur bird sanctuary and the symbol of love and romance, Agra, before returning to Delhi, the capital of India.
​The pioneer of India's luxury travel is inspired by royal carriages of kings and rulers of the bygone era in India. These carriages are each named after a precious stone while the interiors reflect royalty. Guests are treated with hospitality of palatial times with the spirit of Atithi Devo Bhava that translates to 'Guests are like God'.
​The Palace on Wheels itinerary is specially designed for guests to get the most out of their short trip of luxury. With UNESCO World Heritage Sites, rock-carved forts, wildlife safaris, and bird sanctuaries, there is a wide range of world famous tourist spots to visit during the trip.At times, during the tour or off – board excursions, guests can choose between certain activities. Time is alloted in such a way so that Guests may participate in interesting activities like shopping, spas, etc.
​One of India's finest luxury trains – Palace on Wheels won several prestigious awards since its maiden trip. There were makeovers and enhanced onboard facilities on Palace on Wheels to provide guests with the best experience. The former personal carriages of Kings that also transported foreign dignitaries & Nizams is now available for domestic & international tourists/ travelers to experience royalty and king's culture.
​ All the best for a Royal Luxury Experience and Amazing Sightseeing Tour on India's finest budget- friendly luxury train – Palace on Wheels!
​       Palace on Wheels Departure Dates 2022, 2023 – 2024
​Palace on Wheels train operates between September to April. Every week, the itinerary starts on a Wednesday evening and ends on the next week's Wednesday morning. On the same day, at the evening, the next itinerary starts and goes on in a cycle. The train journey starts and ends at Safdarjung Railway station of New Delhi. The departure date for upcoming journeys of 2022, 2023 – 2024 are listed below in a detailed tabular column.
​The guests are requested to be present by 4 PM at the railway station for the check-in procedures. The train does not wait for a single tourist beyond its exact departure time. Concerning the trend of luxury train vacation about world-class tourists, it is recommended to book your tickets at least three months in prior to the departure date. Provide essential travel details to per-book your tickets.
​Palace on Wheels can be chartered for specific needs like wedding, corporate celebrations and others. For more such details, contact us directly.
Departures  
7 Nights Palace On Wheels Train Tour
Departs Ex New Delhi from September till April Every Year

MONTH

DATES

September 2022

07

14

21

28

 

October 2022

05

12

19

26

 

November 2022

02

09

16

23

30

December 2022

07

14

21

28

—

January 2023

04

11

18

25

—

February 2023

01

08

15

22

—

March 2023

01

08

15

22

29

April 2023

05

12

19

26

—

September 2023

06

13

20

27

—

October 2023

04

11

18

25

 

November 2023

01

08

15

22

29

December 2023

06

13

20

27

 

January 2024

03

10

17

24

31

February 2024

07

14

21

28

 

March 2024

06

13

20

27

 

April 2024

03

10

17

24

 
​Total Cost Per Person (7N/8D)
 Foreign Passport Holders (in USD)
Tariff for Peak Season – Total Cost Per Person
* Valid from (September 2022 to March 2023) & (Oct 2023 to Mar 2024)
| | |
| --- | --- |
| Cabin Type | October 2022 to March 2023 & October 2023 to March 2024 |
| Deluxe Cabin on Single Occupancy | USD 8085 + Taxes |
| Deluxe Cabin on Double Occupancy | USD 5257 + Taxes |
| Super Deluxe Cabin on Single Occupancy | USD 14554 + Taxes |
| Super Deluxe Cabin on Double Occupancy | USD 7277 + Taxes |
Tariff for Lean Season
* Valid for (Sep 2022 & Apr 2023) & (Apr 2022)
| | |
| --- | --- |
| Cabin Type | September 2022, April 2023, September 2023 & April 2024 |
| Deluxe Cabin on Single Occupancy | USD 6615 + Taxes |
| Deluxe Cabin on Double Occupancy | USD 4060 + Taxes |
| Super Deluxe Cabin on Single Occupancy | USD 10920 + Taxes |
| Super Deluxe Cabin on Double Occupancy | USD 5460 + Taxes |
The above Tariff is subject to change without any prior notice and the difference in fare is to be paid by the client only. Government Taxes – Goods & Service Tax (GST) is subject to change as per the Government of India Directives
​      Sun N Sand Holidays LLC is offering 10% discount on basic rates before taxes.
​The tariff is inclusive of:
 (Train Ticket Fare Includes)
– Overnight travel & stay in luxury train with AC Sleeping chambers having private attached bathroom
– The Tariff is also inclusive of accommodation, all meals, sightseeing tours, entrance fee (excluding video camera fee) for monuments & palaces, entertainment, camel ride at Jaisalmer (Sam Sand Dunes), Jeep Safari at Ranthambore, boat ride at Udaipur (Lake Pichola) and rickshaw ride at Bharatpur bird sanctuary.

Jeep Safari on sharing basis at Ranthambore National Park.
– The Tariff also includes Elephant joy ride in Jaipur, Sound & Light Show at Chittorgarh Fort, Boat joy ride in Udaipur, Camel joy ride at Sam sand dunes, Cultural Program with dinner in Jaisalmer, Cycle Rickshaw ride in Bharatpur Bird sanctuary, Complimentary use of sharing dongle for wi-fi connectivity, Visit to Taj Mahal in Agra.
Tariff does NOT include:
Domestic or international airfare
Travel insurance or visa fees
Liquor, soft drinks, juices, wine or beer
Camera fees at monuments
Laundry services, additional toiletries, gratuities, souvenirs or any items of a personal nature
Any services in Delhi not specified as included, such as sightseeing, transfers, or hotel accommodations
Any items not specifically mentioned as included.
Monument entrance fees during tour of Delhi
Taxes for all tours in India are calculated and are due 30 days prior to departure, at the applicable rate in accordance to the Indian government guidelines. Payments  are expected in the form of a check. If payment is made by credit card a surcharge of 5% will be applied. Taxes should be paid before any travel documents are issued.
  At the time of printing there is a 5% tax on total cost .
​ A surcharge is  applicable on Christmas and New Year.